CHANCE SYNCHRONICITY & MIND-WRITING:
Write About About Losing Something / and Morning or Night

Prelude
Waking up is a jump, a skydive from the dream.
Free of the smothering whirl the traveler
sinks toward morning's green zone.
Things start to flare. He perceives—in the trembling lark's
position—the mighty tree-root systems'
underground swinging lamps. But standing
above—in tropical profusion—is verdure, with
upraised arms, listening
to the rhythm of an invisible pumping station. And he
sinks toward summer, is lowered
into its blinding crater, down
through shafts of ages green with damp
quaking under the turbine of the sun. So ceases
this vertical flight through the moment, and the wings spread out
into the osprey's repose over streaming water.
The Bronze Age trumpet's
tone of exile
hovers over bottomlessness.
In the first hours of day consciousness can embrace the world
just as the hand grasps a sun-warm stone.
The traveler stands under the tree. After
the plunge through death's whirling vortex, will
a great light unfurl over his head?
Translation of "Preludium." First published in 17 Dikter (Stockholm, 1954). By arrangement with the author. Translation copyright 2007 by Rika Lesser. All rights reserved.
Waking up is a jump, a skydive from the dream.
Free of the smothering whirl the traveler
sinks toward morning's green zone.
Things start to flare. He perceives—in the trembling lark's
position—the mighty tree-root systems'
underground swinging lamps.

Awakening is a parachute jump from the dream.
Freed from the choking vortex, the diver
sinks toward the green map of morning.
Things magnify. He see's from the fluttering lark's
position, huge tree root systems,
like branchings of subterranean chandeliers.

. . . .
I had a black coat. A poet gave it to me some years ago on my fifty-seventh birthday. It had been his – an ill-fitting, unlined Comme des Garçons overcoat that I secretly coveted. On the morning of my birthday he told me he had no gift for me.
- I don't need a gift, I said.
- But I want to give you something, whatever you wish for.
- Then I would like your black coat, I said.
And he smiled and gave it to me without hesitation or regret. Every time I put it on I felt like myself. The moths liked it as well and it was riddled with small holes along the hem, but I didn't mind. The pockets had come unstitched at the seam and I lost everything I absentmindedly slipped into their holy caves. Every morning I got up, put on my coat and watch cap, grabbed my pen and notebook, and headed across Sixth Avenue to my café. I love my coat and the café and my morning routine. It was the clearest and simplest expression of my solitary identity. But in this current run of harsh weather, I favored another coat to keep me warm and protect me from the wind. My black coat, more suitable for spring and fall, fell from my consciousness, and in this relatively short span it disappeared.
My black coat gone, vanished like the precious league ring that disappeared from the finger of the faulty believer in Hermann Hesse's The Journey to the East. I continue to search everywhere in vain, hoping it will appear like dust motes illustrated by sudden light. Then ashamedly, within my childish mourning, I think of Bruno Schultz, trapped in the Jewish ghetto in Poland, furtively handing over the one precious thing he had left to give to mankind: the manuscript of The Messiah. The last work of Bruno Schultz drawn into the swill of World War II, beyond all grasps. Lost things. They claw through the membranes, attempting to summon our attention through an indecipherable mayday. Words tumble in helpless disorder. The dead speak. We have forgotten how to listen. Have you seen my coat? It is black and absent of detail, with frayed sleeves and a tattered hem. Have you seen my coat? It is the dead speak coat.
Patti Smith, from M Train.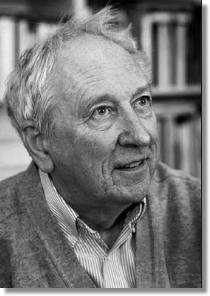 Tomas Transtromer
The Swedish landscape is rather more austere than the richly flowered and variegated landscape to be found in most parts of Britain, where chalk, limestone and other, softer, rocks allow a greater profusion of topographical shapes and plant varieties to flourish. Much of Sweden struggles to survive on granite, outcrops of which can be seen in many of that country's towns and cities, unexpectedly thrust to the surface, and a constant reminder of how much geology still shapes destiny. Such outcrops also produce a proliferation of islands and skerries around the coast, notably just outside Stockholm where there are more than 17,000 islands in the archipelago, many of them inhabited, at least during the summer months. Yet even with its more restricted flora and fauna, the Scandinavian landscape is perhaps even more beautiful and haunting. 'Fjords make philosophers of us all," Ibsen once wrote, about his native Norway.
Like many others, I first became aware of the Scandinavian life and culture through the films of Ingmar Bergman, and the austerities of his landscapes and characters struck a chord, or perhaps more accurately suggested a range of emotions and aspirations unavailable in English culture at the time. (The transitory happiness of the Baltic island idyll in Bergman's 1953 film, Summer with Monika, has recently been evoked again in the English publication of Tove Jannsson's exquisite The Summer Book. This was originally written in 1972, and the translation by Thomas Teal has already been reprinted four times in Britain in 2003, its first year of publication. Jannsson, most famous for her children's books, is Finnish of course, though her summer island is also in the Baltic.)
Partly as a result of these early influences, I have been a fairly frequent visitor to Scandinavia over the years, and find that the landscape and culture there continue to exert a particular spell, in unexpected, and almost Utopian ways especially for someone as urban as myself. Just one telling example of the cultural difference between Sweden and Britain is that their phrase for the welfare state is folkhemmet, 'the people's home'. While always on the lookout for Swedish literature in translation, and finding much of great interest and enjoyment, there is one writer who it seems to me should be regarded as one of the greatest and most distinctive voices in European literature: the poet, Tomas Transtromer. Fortunately Bloodaxe Books have recently expanded and re-published Transtromer's New Collected Poems (2002), ably translated by Robin Fulton, and a book to keep close by, whatever the topography, and whatever the weather.
Transtromer was born in Stockholm in 1931 and is today one of Sweden's most translated poets, though still much less recognised than he deserves to be. By profession a psychologist, his work is transfused with a respect and love for people in all their predicaments and difficulties. In Sweden he has been called 'the buzzard poet' because he seems to fly above the everyday world, observing with detached but sympathetic detail the landscape and the people in it; the paintings of Chagall often come to mind when reading him. The cover of the new Bloodaxe edition principally consists of one of Sirkka-Lilsa Konttinen's memorable black and white photographs, Snow Angel, an aerial photograph of a cleared patch of snow in a pine forest, which seems to resemble the shape of an angel's body, head and wings. With Transtromer we are in the same company as Rilke and Shelley, other poets of angels and ascension.
The dream-like experience of flying (as well as endless falling) recurs again and again in Transtromer's poetry. One of his early poems, Prelude, opens with the line, 'Waking up is a parachute jump from dreams', and this sense of falling into the world each morning as if from some distant planet, is found throughout his work. Like Shelley's Adonais, Transtromer's subjects often feel that they have awakened from the dream of life, and the constant inversion of dream-time and reality, of night and day, of the horizontal and vertical worlds, is an ever-present theme of this intense yet quietly patient writer. A number of Transtromer's poems often suggest a photographic imagination, in which light and dark are hauntingly transposed, as in the beautiful opening image of the poem, The Couple: 'They switch off the light and its white shade/glimmers for a moment before dissolving/like a tablet in a glass of darkness.' Read more...
by Ken Worpole